THE REAL WORLD BRADLEYBASE
Shown below are the actual location shots of the Bradleybase counterparts. The location was (naturally) B.S.'s first apartment located at 113 North Bridge street in downtown Chippewa Falls. The location afforded great views, unique architecture, cramped space, and miserable parking. All the things needed to develop an abnormal fantasy life to compensate.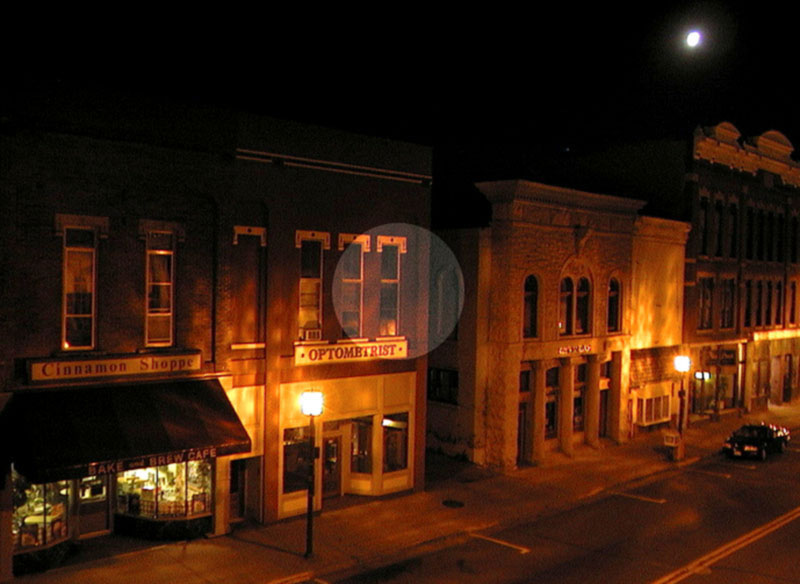 THE BASE
The photos above show the base location in the loft area above the apartment.
Left: Looking west out the front window; photo taken from vent hatch. This area would have been the storage, supply, entry area. The angled wall on right held the ladderwell. Note the reamins of the original stained glass window and the surviving carved woodwork that does not survive in the apartment below.
Center: Moving east, we find the hangar bay area. The big skylight above doubles as the roof access. Note the classy holes punched through the walls to afford easy entry and exit to all rooms.
Right: The briefing room and lab area. The skylight hatch leads to a tall vertical light tower built on the roof.
THE APARTMENT
110 film. No lighting to speak of. Pardon the mess.
Well, for having lived there 5 years, its pretty sad that these are the only pics I could find. From the left going clockwise: The living room, A view of the kitchenette looking back into the studio, The studio window (Complete with Atilla the unkillable goldfish) and a view forward towards the bedroom. Dark wood paneling, dim lighting, and tiny space made for a rather comfy bohemian atmosphere.